Bee Treatment
Specialists
Almost all carpenter bees nest within hard plant materials such as wood or bamboo. Closely resembling bumblebees and they are both pollinators, these two species have different behaviors. A good way to distinguish the two is by nesting activity and that bumblebees have many hairs on their body. Burrowing their way in to hard surfaces to lay eggs, carpenter bees may sometimes leave unwanted holes in structures, porches, railings, trees, and fences. While only the female carpenter has the potential to sting it is very uncommon and must be provoked, male carpenter bees are harmless.
The carpenter bee is a solitary insect preferably living alone and supporting its own nest. When the female carpenter bee is ready to develop a nest, she will begin burrowing and creating galleries to lay her eggs. These galleries are known to develop 2 – 4 feet per season under the right conditions. Over periods of time the nest can host multiple generations causing more damage to the structure inhabited. If left unattended these nesting damages may draw other pests including ants, woodpeckers, and even fungi contributing to wood rot. Carpenter bees may be seen foraging pollen from flowers which is beneficial but can become a pest issue once they begin to damage ones property. 
Sono-Marin Pest Solutions does have the special care to deal with these pests without causing harm to other pollinators and our team is highly trained on the matter. Our technician will gladly assist in finding a solution to eliminate this problem and make recommendations for future preventative measures.
Our Technician will be able to:
Inspect for nests and complete proper treatment for elimination of such pests.

Seal off entry points once carpenter bees are eliminated so they will not return.

Make recommendations on preventative measures and conducive conditions that may be contributing to carpenter bee activity.
Fill out the form below to contact us with any questions regarding your pest issues and a licensed technician will respond as soon as possible.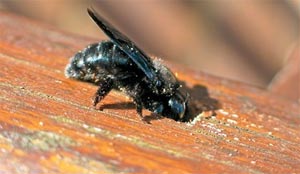 About Us
A Family Owned and Operated, Local Business providing quality and honest service to Marin County and Sonoma County.

Have Questions?
Send us an email by filling out our contact form! 
Proudly Serving Sonoma County, Marin County, Santa Rosa, Sebastopol, Ronhert Park, Windsor, Healdsburg, Mill Valley, San Rafael, Kenwood, Cloverdale, Sonoma.